Guess what! My great grandfather was a member of the Indian Parliament (senator).His name was T.N. Viswanatha Reddy and he was a great politician. He was born on July 1, 1919. The people in India who supported him were from Chittoor and Rajampet in South India. He was part of the first Parliament (congress) after India got independence from the British. He belonged to the Indian National Congress Party who fought for India's independence. He was under the first prime minister of India, Nehru. My great grandfather died on June 31, 1989 at the age 70.
He had three children who were named Ramachandra Reddy, Saila Reddy and Shobha Reddy ( my grandmother). His grandchildren are Deepa Reddy, Vishnu Reddy, Pavan Reddy, Arjun Reddy, Pallavi Reddy  and Shilpa Reddy ( my mother). And finally his great grandchildren are Aditi Reddy, Nithya Reddy, Nikhil Reddy, Kushal Reddy, Varun Reddy,Saharsh Reddy, Keya Premraj, Nidhi Reddy, Meera Spencer (me), Max Spencer (my brother), Dhruv Reddy, and Leela Reddy.
And there is something else really cool about my Indian heritage. My great great uncle
was once the President of India between the years of 1977 to 1982. He was the 6th President of India and his name was Neelam Sanjiva Reddy. Something really cool is that my mom visited him at the presidential palace in New Delhi while he was the President and she was eleven years old. He was a part of the Janata Party and he died on June 1 1996 at the age 83.
My great great uncle.
Picture from:http://www.reddysociety.com/?q=node/38
I couldn't find my great grandfather so I did his son.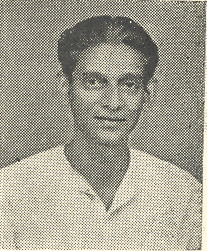 Picture from: https://in.linkedin.com/in/g-ramachandra-reddy-b894b78b