Article = Would you eat lab grown meat?
Source = youngzine
Article date = Feb 15, 2018
Author = Alexis
Flipgrid = https://flipgrid.com/917fe8
Summary =  Lab-grown meat also known as clean meat may be the meat of the future. Studies show that our usual way of getting meat takes up 30% of the world's land.  Lab grown meat takes up 99% less land, 96% less greenhouse gas emissions, 90% less water and doesn't kill the animal.
How to make a lab grown hamburger
Lab grown meat is made by removing adult stem cells from a cow, which is said to be a painless procedure, then they separate the fat cells from the muscle cells. They use the muscle cells to grow the meat. The muscle cells are then placed in an artificial environment also know as a cell culture. In order to grow the cell needs amino acids and carbohydrates. One muscle cell could grow into millions of cells resulting in many hamburgers or whatever kind of meat you are trying to grow. Five years ago a lab grown hamburger cost $325,000 now the price has been reduced to $11.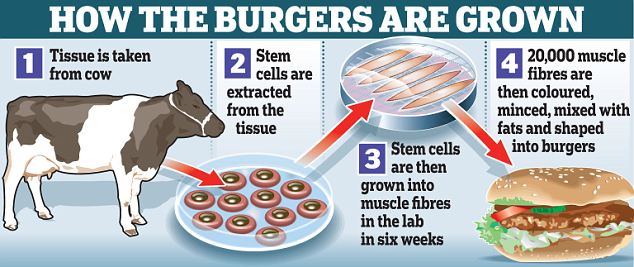 What does it lab grown meat taste like ?
Lab grown meat is right now made just out of muscle so it is not as fatty as a regular hamburger. Scientist who make lab-grown meat are trying to put healthy fats and imitation blood into the meat to make the meat taste more like regular meat.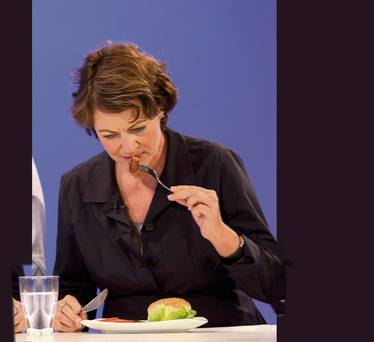 Conclusion
I think we should eat lab-grown meat. Studies also show that one-third of the public is in favor of lab-grown meat. Remember, lab-grown meat is not only good for the environment, it is also good for us, eating lab-grown meat means that we less likely to get antibiotic resistance from eating meat because lab-grown meat is not grown near antibiotics. Eating lab-grown meat also is made in a cleaner environment than outdoor farms, there for the risk of contamination from bacteria is thus eliminated.